Get to know us
North Town Insurance Agencies was opened in 1989 as an independently owned and operated agency delivering comprehensive insurance and risk management solutions in Spokane, Washington and throughout Eastern Washington. We serve individuals, families, and businesses with attention to detail and are passionate about our work.  We continue to grow as we utilize our business to provide products and services and to give back to the people and commercial enterprises we insure. Our main focus is helping our friends, family and community understand insurance and protect their assets.
Today, we work with a team of educated staff and agents to improve the insurance experience for our clients and we work with several different companies so that we can offer the right options for individual needs.
Our community helps us stay progress minded. Growing, learning, and improving on how we can provide the best client service is our goal. We continue to grow as we utilize our business to provide products and services and to give back to the people and commercial enterprises we insure.
Why do business with North Town Insurance?
Unlike a captive, or direct insurance company who only offers their own proprietary products, our agency is 100% independent of any one company. Many insurance consumers don't fully understand just how important that really is.
When it comes to something as important as insurance, it's imperative that you work with an agency who has an in-depth knowledge of multiple insurance products, companies, and guidelines — not just one.
At the end of the day, what separates one agent from another, is their ability to proactively service their policy holders, and their knowledge of the insurance industry, products, and different situations that may present themselves to their clients.
Independent Agent Vs. The Rest
Here is a quick comparison of the differences between an independent agency like us, and the various other types of companies that are out there: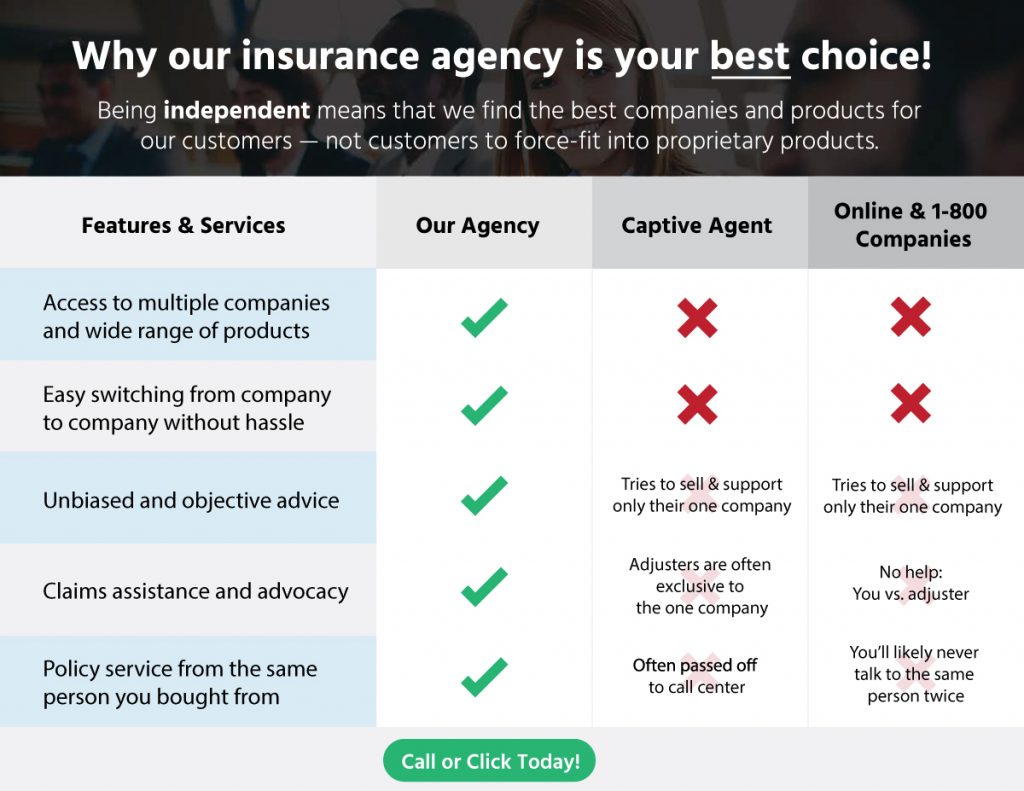 Proud Community Advocates
We support the Fairwood Farmers Market and Community Gardens, and we partner with KHQ News and the Spokane Neighborhood Action Program.  We also give to charities that help children, animals, and individuals in need, and we work with organizations that help these same groups.  We have monthly client spotlights and we hold annual client appreciation events.  We host the 'Bands & Brews' event at a local brewery and we host a barbecue.  Our involvement within the communities we serve allows us to get to know the people and businesses that we insure and it makes us better insurers.
We work closely with each client to find the right solution.  Once solutions are in place, we perform regular reviews and we contact clients before these reviews.  We also manage risk and claims and we are reachable however and whenever clients need to reach us.  As a result, clients can reduce costs and can get in touch with us any time and in any way.
If you'd like to get started with a complimentary quote and/or policy review, we'd be happy to help you any way we can. Simply complete the fields below to get started online in a matter of seconds.
We appreciate the opportunity to help you, and look forward to servicing your insurance needs! Feel free to call us directly if you have more detailed questions.