Insurance Company – Safeco Insurance
Resources for your Safeco Insurance Policy?
Below are resources for your Safeco Insurance Policy.
We hope these are helpful in your Safeco insurance journey!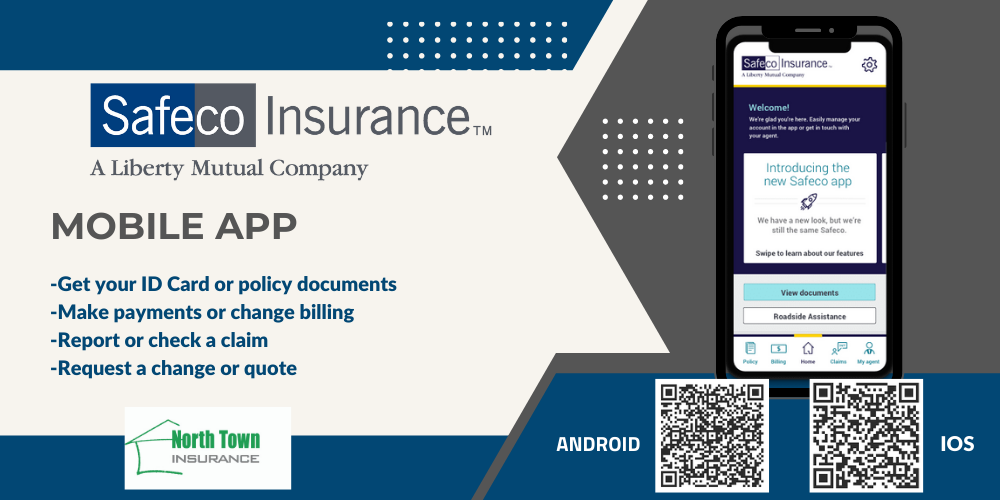 Here are the benefits of having 24/7 to your insurance details:
+ Access to your ID Card or coverage details.
+ Make a payment, change your account information or adjust your payment date.
+ Report a claim, follow claims status and upload photos for a faster turnaround time. This includes requesting Roadside Assistance.
+ Get the app from the App Store.
What are your billing options?
Below are billing resources for your Safeco Insurance policy!  Safeco offers bill by mail, paperless billing and/or reoccurring payments from your debit/credit card or checking account.
Call-In Options: By calling the billing department at 1-800-332-3226, you have 24/7 options to make payments, change account details and set up or stop automatic deduction payments.
Online/Mobile App Options: Through your client portal or mobile app, you have 24/7 access to make payments using debit card, credit card or checking account.  You can access your billing schedule, update account details or postpone your payment.
Stop Automatic Deductions: If you need to stop your automatic payment from drafting out of your account, contact the billing department. However, it needs to be at least 48+ business hours before the scheduled payment.
Check out these discount opportunities and let us know if you would like to review your policy to find out if you qualify for them:
Multi-Policy: When you have two or more policies with Safeco, you will enjoy a savings.  Bundling can include property (home or renters), boat, motorcycle, RV, umbrella.
Multi-Car: When you have more than one vehicle listed on your policy, you can earn discounts.
Good Student: If you have a teenage driver in your home, you know how expensive the insurance can get!  If your teenager is in school and has a 3.0+ GPA (B average), make sure you share that information with your agent.
Distant Student: If you have a full-time student on your policy, and they live away from your home at school, share that with your agent and qualify for this discount.
Homeowner:  Do you own a home? By being a home owner, you qualify for this discount.  Share that information with your agent to get the discount applied!
RightTrack / Safe Driving:  If you are confident in your safe driving, this program offers a personalized rate based on your driving.
Billing: Setting up automatic payments, or paying your policy in full, are great discounts available to you!
*Discounts vary based on State.
Most importantly, pull to a safe location, turn off your car, turn on your hazard lights and make sure no one is hurt.  If someone is hurt, call 911 and do not attempt to move them.
If there are no injuries, connect with the other party to exchange information.  Collect: Name, address, phone number of driver and any witnesses.  Driver's license number, license plate numbers, insurance company details.  Take photos of the vehicles and damage, if possible.
You can report the claim to the police, but in Washington State they generally will not send an officer unless property damage exceeds $1,000, there are injuries, or involves a pedestrian, bicyclist or motorcyclist.
For general questions, contact your insurance agent to discuss the situation and review the next best steps.
To report a claim, complete the questionnaire on the mobile app or client portal.  Or contact the claims department at 1-800-332-3226.  
Contact phone numbers to save:
Service Center: 1-800-332-3226  Outside of our business hours, Safeco's service team can assist you with changes, claims, billing and general questions.
Roadside Assistance: 1-877-762-3101 Roadside Assistance will help with towing, lockout, fluid, flat repair and other roadside service. Most policies allow 3 requests (within your policy term) and will tow within a 15-mile radius.
Coverage options available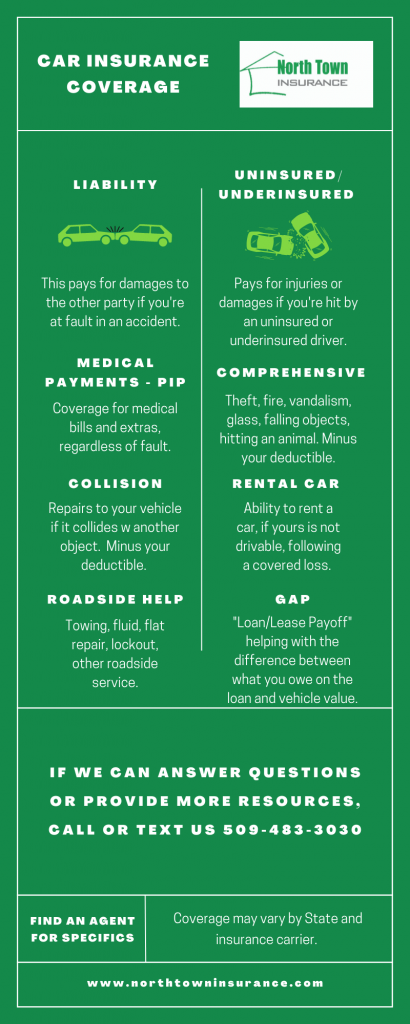 Right Track Driving Program
Coming Soon
If you have any other Safeco Insurance questions that we can answer, or clarify, please share with us!  You can reach Lisa via email: info@northtowninsurance.com  
Disclaimer: This is a general overview, with the intention of bringing awareness to coverages, options, policy information.  However, coverage varies between carriers, agents and states.  Please check your policy for specifics.