Did You Know Your Home Insurance Actually Has "Sub-Limits"?
Home Insurance: "Sub-limits" and how to make sure your property is actually covered.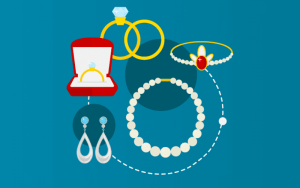 Have you considered what happens if you lose an expensive piece of jewelry, or collector's item is destroyed after a claim?
What Are Sub-limits?
Sub-Limits are the coverage limits that are applied to specific personal belongings. With a renter's or Homeowner's policy, a key coverage will be the dollar amount of your personal items. Pretty straight forward, right? Unfortunately, just because your policy states $100,000 – Personal Property (for example), doesn't always mean the 5k engagement ring or 30-year-old Pokémon card collection will be covered. It depends on the policy and what the specific sub-limits are for that type of personal property.
These sub limits typically apply to high-value items or specific types of losses that are considered to be higher risk or not covered by the standard policy limits. They help to define the maximum amount the insurance company will pay for a specific loss or item. For example, there may be sub limits on jewelry coverage, fine art coverage, or collectors' items. These sub limits can vary depending on the insurance company and the specific policy. It's important for homeowners to review their policy and understand any sub limits that may apply to ensure they have adequate coverage for their specific needs.
Common Examples of Sub-limits:
Theft of jewelry, furs, watches, precious and semiprecious stones                    $1,500
Theft of firearms and related equipment                                                               $2,500
Theft of goldware, pewterware and silverware                                                      $2,500
Watercraft, including attached or unattached trailers, furnishings, equipment, parts and motors                                                                                                        $1,500
Electonics, computers, laptops                                                                                $1,000
Beyond Sub-Limits:
Consequently, if you have an expensive piece of jewelry or collectible that would cost more than your policy's sub-limits, you might be paying out of pocket to cover the rest! The insurance policy in theory, would only cover the first $1,500 of a stolen jewelry item (after the deductible)!
How To Cover Personal Property over the Sub-Limits:
The most straight forward way to cover your expensive items is to "Schedule" them on your insurance policy. Scheduling is a way to declare a specific item and determine how expensive it will be to replace. Although scheduling is a add-on to the main policy, so you will have to pay an additional amount for that coverage. But depending on your policy, you will usually pay little to no deductible to active the coverage!
Scheduled Personal Property Claim Example
Let's say you have a $12,000 watch that you schedule on your home policy and was recently stolen:
You file a police report for the stolen watch.
You contact your insurance company to file a claim and provide your claims handler with a copy of the policy report.
Your insurance company will review your claim, including any applicable deductibles.
After the review is complete, you receive an insurance check for the amount you scheduled your watch (minus any deductible).
Summary:
Homeowner's or Renters should be aware that "personal property" coverage doesn't always cover your high value belongings.  Speak with your trusted insurance advocate to review your situation and feel confident that your insurance will be there when you need it!
It's important to have an insurance advocate be able to answer these types of questions. If you're looking for a fresh and engaging insurance experience, visit the group at Northtown Insurance for all your insurance questions and needs!

Fine Print: This is a general overview with the intention of bringing awareness to coverage options and general industry standards. Coverage varies between carriers and states. Check your policy for specifics.