Support the Youth of The Boys & Girls Club of Spokane County…
This month, please join us in learning more about The Boys and Girls Club of Spokane County and about our Community of Spokane! For the month of August 2018, we are partnering with this organization and the Local Independent Agencies of Spokane for our Give-Back Pack Challenge.
Since 2001, BGC had since opened their doors to hundreds of Spokane youth between the ages of 6-18 years old. They are one of Spokane's most leading youth organizations directing our youth each day. They partner with a vast amount of schools in Spokane and every year there are children that come to school without Backpacks on the first day of school.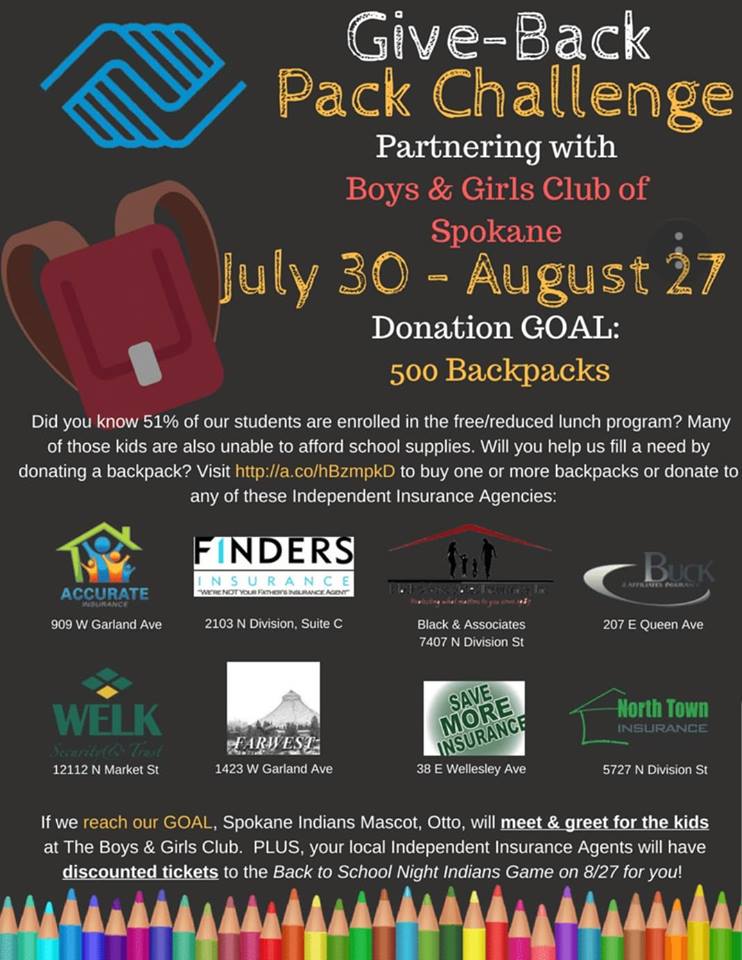 We are especially excited about this outreach because the need is great here in Spokane and we believe our community will join together to SUPPORT OUR STUDENTS who will one day be our workforce, our employees, our co-workers, our future.   "Nothing invested in a child is ever lost."
​Do you remember your first day of a new school year?
Nervous. 

Excited.  Hopeful.  Anxious. 
Classmates showing off their clothes, supplies and gadgets.  Some kids not having new clothes or supplies and using a used duffel bag.  The social challenges students face is many and can be difficult to process.  Can we work together to make it a little easier for our students by helping them come to school with a new backpack?  One they can say "this is mine"! Join us in a community-wide Give-Back Pack Challenge for The Boys and Girls Club of Spokane K-12 students through August 27th.
Drop off a backpack at one of the Local Agencies listed below:
North Town Insurance – 5727 N Division
Finders Insurance – 2103 N Division, Suite C
Accurate Insurance – 909 W Garland Ave
Black and Associates – 7407 N Division St
Buck & Affiliates – 207 W Queen Ave
Welk Security & Trust – 12112 N Market St
Farwest Insurance – 1423 W Garland Ave
Save More Insurance – 38 E Wellesley Ave
Unable to stop by one of these offices? Click HERE to purchase backpacks and ship them to 5727 N Division St, Spokane WA 99208.
CHECK BACK DAILY TO SEE WHERE WE ARE AT!