Working From Home – Do You Need Business Insurance?
Working From Home: Do you need business insurance?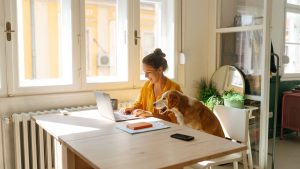 Working from home has become a way of life for many Americans. This trend may also change how your property insurance needs to cover you!
In case you've missed out, there has been a significant uptrend in professionals trading in the office space for a laptop and the living room sofa! According to a recent Forbes article, in 2023, 12.7% of full time employees report working from home. While a record breaking 28.2% reported a hybrid method to get all their work done. But just because you work from home, does that mean you'll need  a special insurance policy? It depends! 
One large factor is going to be if you're an employee for a company or if you're working through your own business. When you're an employee who's working from home, you'll want to confirm with your manager if they need you to have any additional insurance. The answer is usually no, but its's always better to ask and they might even be impressed with the question! 
If you're working in your own business, there are quite a few other things to consider, you might need additional protection. 
As the business operator, do you employee others to help make your dream a reality? Usually that's a pretty obvious sign you'd want business insurance. The majority of business claims come from the acts of the employees, even if it's a business that can be run from your home.
Personal Property
Does your current property insurance policy cover your business' personal property? Including the computer you do all your work on or all the gadgets used in your ETSY masterpieces! If your current policy specifically doesn't included those items used on your business, you might be best served with a business policy.
Open To The Public
Does your business have clients that come over to the property? Take for example, providing piano lessons out of your home. Consider if a student or other client came to the property, slipped and was seriously injured. That person could then sue the business owner! Depending on the insurance policy, a common homeowners may not cover the lawsuit. While different insurance companies may have different solutions for that scenario it's always better to check with your agent.
Cyber Security
Could you be liable for damages due to a cyber security breach? Accordingly to a 2023 Astra analysis, 43% of cyber attacks were conducted on small businesses. These attacks against business owners on average cost $25,000 in damage. Businesses that take in customer's personal, payment or confidential information are especially liable for damages. It's not guaranteed another software or service provider will help with one of your customers getting their identity stolen, due to a cyber attack. Cyber security insurance is a really important coverage for any business either at  home or in an office setting.
Errors & Omissions
Lastly, have you ever made a professional mistake with the service you provide? Maybe you're a remote business owner who provides bookkeeping services for other businesses. One night you stay up late to meet an upcoming deadline and you accidentally forget to enter a few invoices and send out the accounting report to your client. We're all humans and mistakes big and small happen! If your client however, then made a business decision based on the service you provided and there was a mistake, you could be liable for damages or a lawsuit. Errors and Omissions (E&O) insurance coverage helps protect your business against negligence, omissions, misrepresentations and errors in the service provided. This coverage is not naturally found in property insurance policies!
Conclusion:
You likely won't need more insurance if you're an employee who works from home. However, if you're working for yourself in some capacity, you'll want to consider enhanced coverages or business insurance. These could range from having higher liability limits and including an umbrella policy, all the way to a custom business policy. Just like your personal insurance, any business insurance coverage is unique to the business and the human operating it. The best way to protect the business and the life you've worked hard for, is to connect with your insurance agent to build the right policy for you!
It's important to have an insurance advocate be able to answer these types of questions. If you're looking for a fresh and engaging insurance experience, visit the group at Northtown Insurance for all your insurance questions and needs!

Fine Print: This is a general overview with the intention of bringing awareness to coverage options and general industry standards. Coverage varies between carriers and states. Check your policy for specifics.